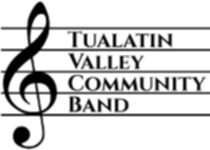 Note: "Holiday Harmonies" Concert is at Tualatin High School Auditorium
Welcome to the online home of TVCB!
The Tualatin Valley Community Band (TVCB) is lead by Steve Heuser and is composed of volunteer individuals who have played musical instruments in high school, college and with other groups. Some members had not played for many years, but have listened to TVCB at our free public concerts and joined. Participation and practice will help you re-learn or sharpen previously mastered techniques, tone quality, and intonation.
Please stop by to listen and see what TVCB has been up to!
Upcoming events
The Tualatin Valley Community Band, under the direction of Steve Heuser, will present a free "Holiday Harmonies" concert. Program selections are shown below. Please join us for an evening of live music to celebrate the season.
"Jupiter (The Bringer of Jollity)" - Gustav Holst
"October" - Eric Whitacre
"Variations on a Korean Folk Song" - John Barnes Chance
"Symphonic Suite from Star Trek" - Michael Giacchino, Alexander Courage, Gene Roddenberry
** Intermission **
"Joy to the Season" - Sean O'Loughlin
"Up on a Housetop" - arr Jeff Simmons
"Greensleeves" - Alfred Reed
"Midnight Sleighride" - Serge Prokofiev
"Merry Christmas, Everyone! (A Christmas Sing-a-long)" - Steven Reineke
"Sleigh Ride" - Leroy Anderson
Date: Saturday, December 7th, 2013
Time: 7 pm
Location: Tualatin High School Auditorium, 22300 SW Boones Ferry Rd., Tualatin, OR 97062.
Map »
Cost: Free - Donations accepted